Meet the Attorney
Kiera Harvey

2 Timothy 1:7 – For God hath not given us the spirit of fear; but of power, and of love, and of a sound mind.
Attorney Kiera Harvey is the founder and principal attorney of the Harvey Law Firm. A law firm that specializes in Business Law, Personal injury, and Civil Litigation.
When Attorney Harvey decided to start the Harvey Law Firm, there were only two words that came to mind: FEAR NOT! Although this action was easier said than done, Attorney Harvey redirected any feelings of fear into positive energy that allowed her to create a law firm that operates on power, love, and a sound mind.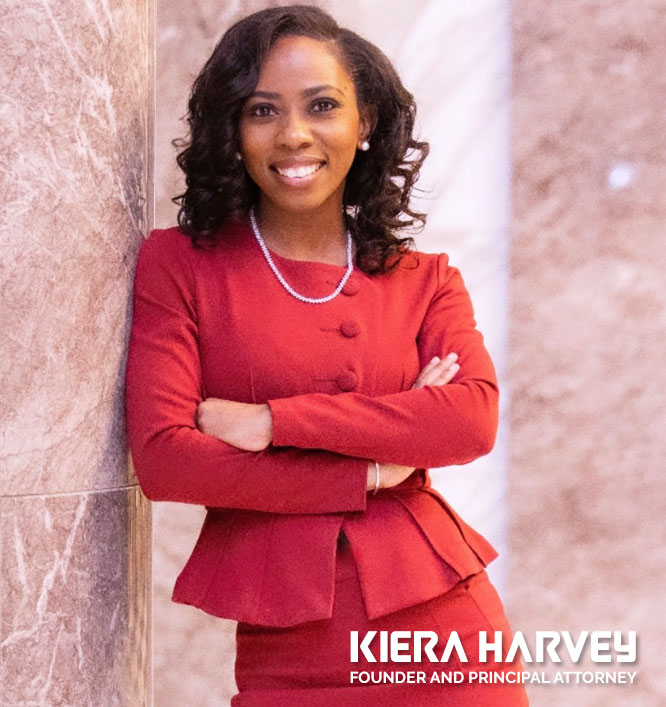 Attorney Harvey works with her clients to let them know that they have a spirit of power. The power to start their dream business and the power to seek legal recourse for any injustice that they may have experienced.
Also, Attorney Harvey brings a unique skillset to the practice of law by running her law firm on the principle of love. When working with Attorney Harvey, you can tell that she has a genuine love for her clients and for the law.
Attorney Harvey is dedicated to keeping her mind sharp so that she can provide her clients with competent legal representation. She will forever be a student of the law who strives to come up with innovative and creative ways to get the best results for her clients.
In her spare time, Attorney Harvey enjoys relaxing, traveling, shopping, trying different restaurants, bringing her A-game on the basketball court, watching Game of Thrones, Marvel movies, and most importantly, spending time with her family and friends.
Philanthropy